Goat Yoga!
Goat Yoga! Come do yoga for a good cause! Proceeds benefit betterTogether.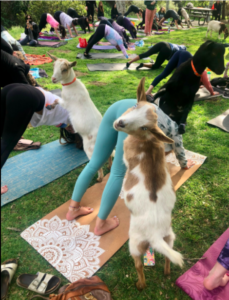 For more information and tickets click here.
Join us for a morning of yoga and goats with Hello Critter! Your morning flow benefits betterTogether Forever. Bhaa!
Do yoga with goats for a good cause? Yes, please! betterTogether Forever is dedicated to helping pet parents in Los Angeles communities that are under-served and under-resourced access valuable services to help them stay together with the pets they love, and to keep those pets safe, healthy, happy, off the streets, and out of animal shelters. We believe that pets are family! And everyone deserves to keep their pet even in difficult times.
You can support our program by joining us for yoga with goats!
We will be offering three sessions of goat yoga on a beautiful and shaded lawn in Glendale with Hello Critter! Each session is 40 minutes long. Time for a class and then photos!
Pricing: $40 per session
Schedule: June 25th, 2022
9 am to 9:40 am
9:40 am to 10:20 am
10:20 am to 11 am